Ampro
Standards-based embedded computing technology that accelerates product development and enhances productivity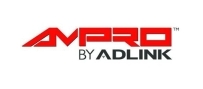 Country: USA
For over 20 years, Ampro has supplied innovative modular embedded computing solutions to assist our customers to get to market and to profit faster. Partnering with embedded software suppliers and leading microprocessor companies, we define and implement standards-based embedded computing technology that accelerates product development and enhances productivity.

Ampro innovations include the PC/104 and PC/104-Plus standards; the EBX form factor LittleBoard for non-backplane, single-board computers, the PC/104 and PC/104-Plus CoreModule SBC, the ETX computers on modules and the low-cost EPIC SBC series ReadyBoard products and Mini-ITX MightyBoard product line.

All of our products enable manufacturers of a wide range of products to integrate standard-based-embedded computing solutions into their products all while minimizing product size and cutting time to revenue, design costs and development risks.


Ampro (Adlink) products in MicroMax's catalog: