Each industry has its own requirements for industrial computing, and often a standard solution does not fulfill a customers needs. MicroMax, as a manufacturer of industrial computers, takes a customized approach to each client. Our engineering group can design one of our M-Max systems to fit the specific technical requirements of the customer.
| | |
| --- | --- |
| Photo 1 | Photo 2 |
There are currently four different M-Max models: M-Max 600 mk.3, M-Max ST mk.2, M-Max PR mk.2 and M-Max 800 PR. Photo 1 shows the standard M-Max 600.
One of the modifications of M-Max with two additional customer supplied boards is shown in photo 2. This modification provides 32 analog inputs, 4 outputs and 72 digital I/O.
This computer was designed for use in the production control system at a confectionary plant. The customer requested reliable operation in a dusty and high temperature environment.
| | |
| --- | --- |
| Photo 3a | Photo 3b |
Photos 3a and 3b show another modification of M-Max 600 with MIL-SPEC connectors on the front panel, two additional COM-ports and an additional Ethernet port. The computer can withstand exposure to water, dirt and high pressure.
This model was designed specifically for use in vehicles, to withstand high vibration, and was equipped with a double damping system. Additionally, the reliability of this model is guaranteed by utilizing high quality vibration-proof components.
| | |
| --- | --- |
| Photo 4a | Photo 4b |
Photos 4a and 4b show a modified M-Max 700. While the front panel (4b) is standard, 4a shows the five additional connectors on the back panel for video input channels and two CAN interfaces.
| | |
| --- | --- |
| Photo 5a | Photo 5b |
Photos 5a and 5b show the M-Max 700 with special coating. Additional features of this unit are:

• Low Temperature Start Delay System
• Built-in-UPS
• Mesh modem (photo 5b)

| | |
| --- | --- |
| Photo 6a | Photo 6b |
Photos 6a and 6b represent another modification of the M-Max. This model is equipped with the Intel LV Pentium M 738 (1.4 GHz) processor and 1 GB RAM DDR333 SDRAM, as well as with a customer supplied PCI board. Front and rear panels were redesigned for special connectors to ensure compliance with IP53 or IP64 (with a protective plug) ratings. The installation of additional plugs will convert them into IP64 connectors.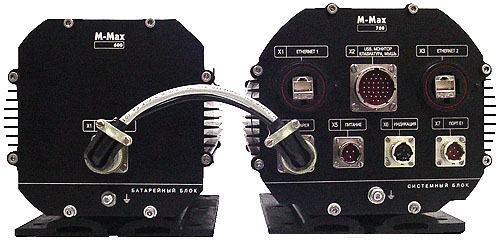 Photo 7
Photo 7 shows a specialized M-Max 700 based system, which consists of two units – a system unit and a battery unit. The system unit is a standard M-Max 700 with military-type connectors on the front panel. The UPS unit consists of an intelligent charging device which is housed in the system unit and two battery modules housed in the battery unit. The battery unit provides the system with 4 hours of backup power.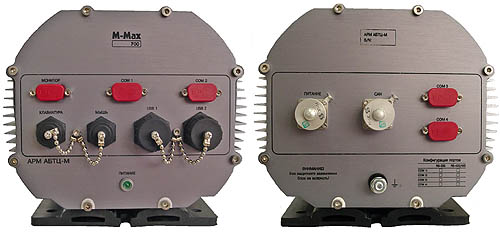 Photo 8
Photo 8 shows an MMax 700 workstation. The customer requested an additional CAN-port.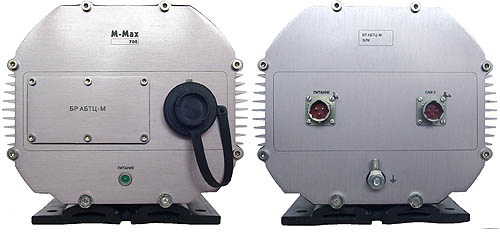 Photo 9
Photo 9 shows a specialized computer, based on the M-Max 700, which performs functions similar to a black box on an aircraft. A two channel CAN board is used to record various data, which could be used to determine the cause of various malfunctions.
Photo 10
Photo 10 shows the M-Max 700 fitted with IP66 rated connectors. It is possible to use both standard as well as protected connectors, however IP66 rating could be achieved only when using the latter.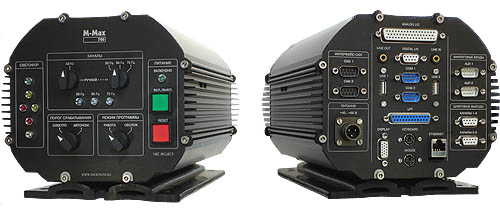 Photo 11
Photo 11 shows a specialized computer designed for use in transport, equipped with a large number of isolated digital and analog input/output ports. The front panel is fitted with a display and controls defined by the customer.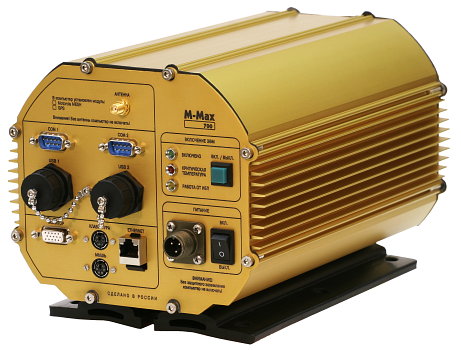 Photo 12
Photo 12 shows M-Max 700, a rugged transport computer, designed per customer's specifications, which is the evolution of a previous version shown in the photo 5. The main differences are:

• Improved energy efficiency. Utilizing a low power AMD Geode LX 800 (500MHz) and DDR333 SDRAM
• Uninterruptible Power Supply is built on the capacitor elements
• USB screw connectors were installed as per customer specification

There is another identical looking version of the M-Max 700, in which instead of a radio modem, a 12-channel GPS-receiver is installed.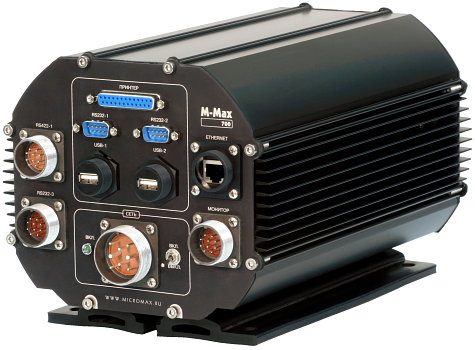 Photo 13
Photo 13 shows one more IP51 rated computer per customer specifications. This is M-Max 700–Performance, a version of the standard model (Intel LV Pentium M 738 [1.4 GHz], 256 MB DDR333 SDRAM).
The computer is designed to be in integrated into the existing environment and is equipped with the following options:

• Addition of 4 opto-isolated (up to 1 kV) RS-232 ports
• Equipped with customer specified connectors for specialized keyboard, monitor and graphic manipulation
• Installed customer specified connectors in order to connect to the onboard power supply
Photo 14
Photo 14 shows an IP54 rated M-Max 700, designed per customer specifications, for use as an on-board computer (avionics). In addition to the modification of I/O subsystem and connectors, two customer supplied PCI boards were integrated into this computer, which required heavy engineering work. The basic differences are:

• Integration of the two customer supplied PCI boards
• Discrete channels I/O (32 input and 32 output channels for discrete commands, 20 input and 20 output channels for TTL-commands)
• Utilization of rugged PC-compatible connectors as well as a military type connectors
Photo 15
Photo 15 shows an IP66 rated on-board rugged M-Max 700. This computer is integrated into an existing marine vessel environment with an operational temperature range from -20 to +50 °C. The system utilizes Intel LV Pentium M 738 ( 1.4 MHz, 2 MB L2 cache) and 1 GB RAM DDR SDRAM. The main differences are:

• 4 frame grabber ports CVBS
• Rugged PC-compatible terminal strips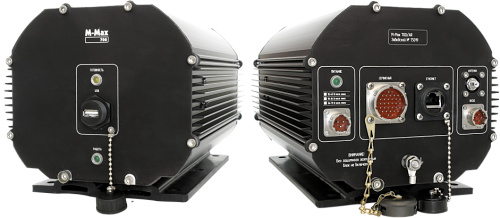 Photo 16
Photo 16 shows M-Max 700, designed for installation on locomotives and other railway moving vehicles, for the purpose of recording signals with GPS tracking of railway electronic interlocking and Automatic Block Signaling System. This computer is a part of a complex system which can analyze and determine malfunctioning track segments with an accuracy of 15 meters. This accuracy can be maintained for up to 300 km/h train speed.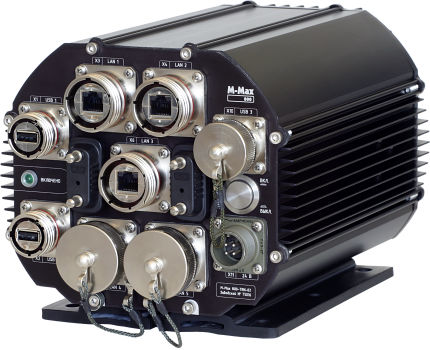 Photo 17
Photo 17 presents M-Max 800 PR. This model was designed in accordance with customer requirements for use in ships navigational systems. This unit is IP65 rated, operates at ambient temperatures from -10 to +55 °C and is highly vibration and shock resistant. This version, the most powerful computer in the M-Max product line, is equipped with a CPU Intel Core 2 Duo SP9300 (2.26 GHz) processor, chipset Intel GS45 Express with integrated video controller Intel GMA4500 and delivers excellent performance and graphics capabilities.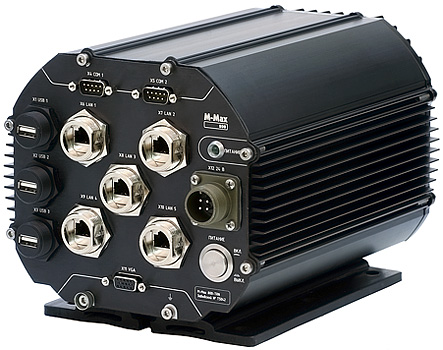 Photo 18
Photo 18 shows another modification of M-Max used in a ship's navigation system. A number of engineering solutions as well as utilization of different components have allowed us to reduce the overall cost of this system while fully retaining functionality of this navigation computer and also increasing the RAM to 2GB. The most noticeable change on the photo are connectors, the remaining differences are inside the computer.
Photo 19
This is M-Max 400 – a gateway CAN-RS computer designed to work in railway automation and remote control systems (Photo 19).
All models are designed with upgrade capabilities based on mezzanine architecture and other M-Max design features.