Back to news list
MicroMax Announces the First Production Shipment of M-Max 810 PC/104 ATR System
June 11, 2013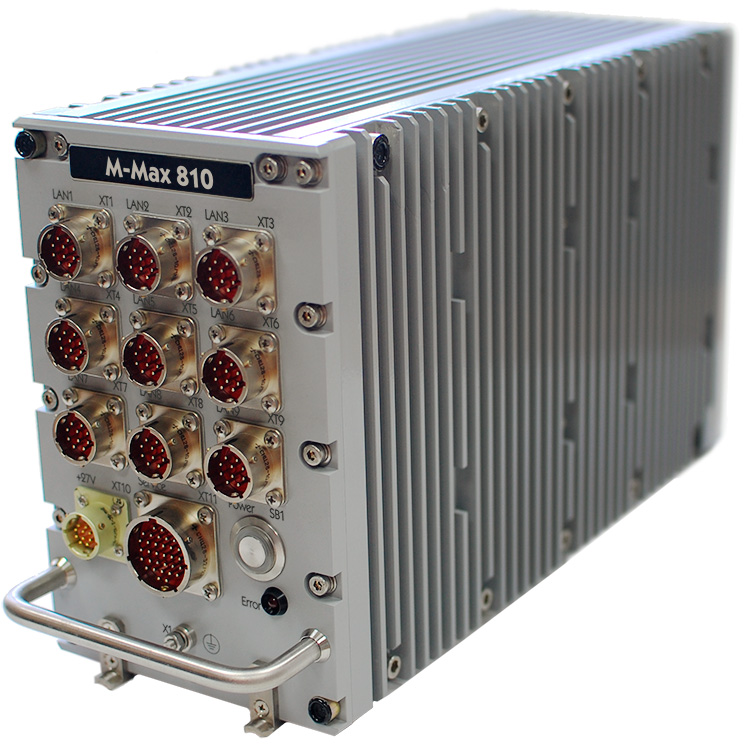 Adapting its proven product to customer requirements, MicroMax has combined its patented fanless cooling technology with substantial weight reduction to create the highly rugged M-Max 810 PR/MS3 avionics computer system. The ½ ATR fanless system is designed to house PC/104 boards, offering a redesigned ATR enclosure that retains the strength of the case while cutting weight to enhance use in airborne applications.
Sam Abarbanel, President of MicroMax, stated "The highly rugged M-Max 810 PR/MS3 was introduced at Embedded World 2013 in Nuremburg. It extends the product line of tough computers made for harsh environments. This fully sealed fanless ATR-system shows MicroMax's industry leadership in this area and demonstrates the ongoing potential of the PC/104 Form Factor".
The M-Max 810 PR/MS3 high-performance rugged industrial computer provides reliable operation in tough environments including transportation (ground, rail, air and marine), mining and processing applications. The fanless fully-ruggedized ATR-type aluminum chassis uses natural convection and conduction cooling in accordance with MIL-STD-810 standards. COTS technology components allow configuring the M-Max 810 family to comply with a wide variety of airborne, marine and ground vehicle applications. Providing shock and vibration protection, the Max 810 PR/MS3 can operate under extreme temperatures (-40 to +65 °C), dust and humidity, delivering excellent performance comparable to high-end desktop systems.

To support using high performance processors when passive cooling and a small enclosure are mandatory, MicroMax developed technology to dissipate excessive heat from computer boards and other electronic devices working in high vibration environments. This patented design efficiently removes heat from electronic components housed on a circuit board vibroinsulated from an enclosure.
MicroMax, as a manufacturer of industrial computers, takes a customized approach to each client. Our engineering group can design M-Max systems to fit customer-specific technical requirements.
MicroMax Computer Intelligence was founded in New York, USA, in 1979. It specializes in designing and manufacturing of embedded solutions for harsh environments, systems development and distribution of industrial computing and communication products.