Back to news list
MicroMax to Exhibit Newest Line of M-Max Systems at Embedded World 2016 in Nuremburg
February 10, 2016
New York, February 10, 2016 — MicroMax announced today that it will exhibit several new models of ultra-compact environmentally rugged computer chassis from their M-Max product line at Embedded World 2016, taking place on February 23 to 25 in Nuremberg, Germany.

MicroMax's newest systems extend their scalable M-Max 800 platform. MicroMax will demonstrate two new ultra-compact extremely rugged machined aluminum chassis (compatible with VITA 75 standard) especially developed to house PC/104 boards to build high performance systems using conductive cooling. Two systems will be on display in Nuremberg: the high-performance rugged M-Max 871 EP2/MMS computer, and the rugged Gigabit Ethernet M-Max SW208 switch. Both systems demonstrate MicroMax engineering ability with high performance PC/104 based systems. The products are implemented in our newest compact enclosures which allows efficient conductive cooling.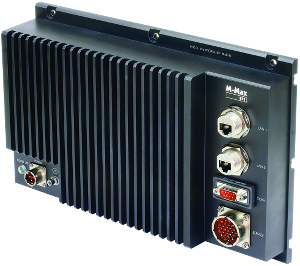 The M-Max 871 EP2/MMS is excellent for mobile applications. It can be mounted in tough environments on different vehicle types. The lightweight compact sealed case (IP 66) with patented fanless heat dissipation resists contamination and humidity. Providing shock and vibration protection, the M‑Max 871 EP2/MMS can operate under extreme temperatures (-40 to +65 °C). Its high performance is comparable to a high-end desktop computers: Intel Core i7 (1.7-2.8 GHz).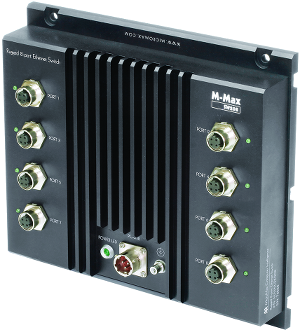 The M‑Max SW208 is an environmentally ruggedized 8-Port Gigabit Ethernet Layer 2+ Managed Switch. It provides highly reliable operation in tough environments including transportation (ground, rail, air and marine), agriculture, and mining and processing. It accepts a wide power supply voltage input, and is tested and guaranteed over a temperature range of −40 to +75°C. Its rugged enclosure is designed according to VITA75 footprint. The SW208 has eight 10/100/1000 Mbps copper twisted pair ports. Support for control and management is through a web interface, and host processor access through a Command Line Interface (CLI).

MicroMax will also exhibit its newest 3/8 ATR enclosure designed to house various PC/104 boards. All MicroMax systems on display at the forum illustrate the high potential of the PC/104 form factor in building highly rugged high performance systems. The compact design of our newest enclosures allows for use in very confined spaces. Additionally, the high degree of ingress protection supports reliable outdoor installation. Sam Abarbanel, President of MicroMax stated «There's been enormous interest in, and an exceptional response to, our newest highly rugged enclosures and compact rugged systems. Our presence here makes available new tools for success in projects involving challenging environments.» If you will be attending Embedded World please stop by at booth 2-451