Back to news list
I/O Rich Eagle Family of Baseboards and SBCs
February 12, 2018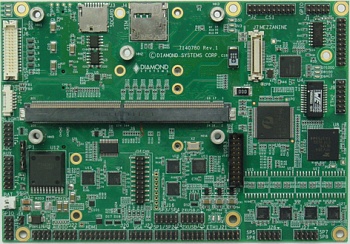 I/O Rich EAGLE Family of Baseboards and SBCs Provide Off-the-Shelf Complete ARM Computing Solutions

Rugged I/O baseboards support the Toradex Apalis family of ARM computer-on-modules (COMs) with lifecycles extending through 2028

Eagle Baseboard for ARM COMs Diamond Systems' EAGLE Diamond Systems' family of compact SBCs is designed to support the Toradex Apalis i.MX6, T30 and TK1 ARM computer-on-modules (COMs).

The product line is composed of two models: the full-size Eagle and the smaller Eaglet. Both models are fully-configured off-the-shelf solutions consisting of an I/O baseboard with an installed ARM module and heat sink. The Eagle/Eaglet products are also available with a fully configured Linux OS embedded into the ARM modules' on-board flashdisk.

Development Kits, including the fully configured SBC, pre-configured Linux OS, and a full cable kit, are available from Diamond Systems.

Valuable benefits of the Eagle product family include:
Off the shelf solutions for a family of feature-rich ARM modules from Toradex
Long lifecycle — guaranteed availability through 2028
Easy upgrade by selecting from a family of pin-compatible modules offering a range of price/performance options
Ready for the new i.MX8 processor available in 2018
Visit the Toradex website for detailed information on the Apalis family of ARM modules used on Eagle and Eaglet.

I/O Features

Eagle and Eaglet feature a wide variety of functionality. The smaller Eaglet provides the core functionality provided by the installed ARM module, while the larger Eaglet provides enhanced features for applications requiring more I/O.