Back to news list
MicroMax Expands its Portfolio
November 4, 2019
Due to the success of the introduction of our HalfRack Chassis-based systems M-Max HR 1U and 3U at DSEI 2019, we are pleased to announce that we now offer the chassis as standalone products. The new family of extremely rugged 19/2″ rack chassis for passive cooling computer systems expands MicroMax's portfolio of in-house designed products.
The M-Max HalfRack Chassis family consists of several chassis designed as all of MicroMax's products for operation in harsh environments. IP66-rated dust and moisture protection as well as the ability to withstand shock up to 40g and vibration up to 2.5g make MicroMax's HalfRack Chassis-based systems an excellent option for the most critical applications.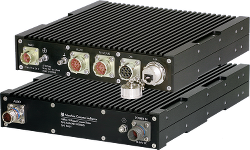 A key feature of the M-Max HalfRack Chassis is the option to combine several chassis to build redundant computer systems. Two chassis can be combined into a single assembly and installed in either a 19″ rack or on a flat surface. The capacity of the chassis is up to 4x PC/104, 3.5″, COM Express or similar-sized boards (HalfRack 3U version).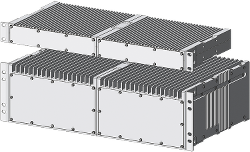 Further, aluminum greatly reduces the weight of the systems. The 280mm M-Max HalfRack 3U Chassis weighs approximately 4.7 kg (10.3lbs). The finned chassis is made of a special aluminum alloy and allows dissipation of up to 90W of power (3U version). Using MicroMax's patented technology we are able to dissipate such amount of heat directly from highly stressed electronic components without any loss of shock and vibration protection. Front and rear endcaps of the chassis can be customized with application-driven connectors. Optionally, the chassis can be configured with a MIL‑STD‑704F/461F‑compliant power supply.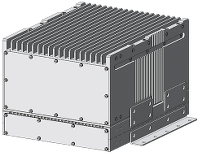 Debuting at DSEI'2019 London, our HalfRack Chassis-based systems, M-Max HR 1U and 3U, generated so much interest that we decided to offer these chassis as standalone products.
MicroMax Computer Intelligence is a manufacturer of industrial computers. Our engineering group can match the client's requirements with one of our COTS units or when necessary, upgrade our M-Max systems to meet customer-specific technical requirements. MicroMax Computer Intelligence, a U.S. Corporation, was founded in 1979. Specializing in the engineering and design of embedded solutions for harsh environments as well as distribution of industrial computing and communication products, MicroMax's M-Max systems are highly regarded in the transportation, manufacturing and mining industries.