M-Max 700 PR/TTI
Rugged Industrial Computer with UPS Subsystem

Vendor:
MicroMax Computer Intelligence
UPS uses ultracapacitors for 2 minutes backup power
1.66 GHz Core Duo with passive cooling
3 video PAL/NTSC inputs with onboard JPEG2000 compression
Operating temperature from -40 to +55 °C
M-Max 700 PR/TTI is a high performance rugged computer for vehicle data acquisition. The system is designed to operate in extremely harsh environments and is suitable for most applications that support real-time video encoding. The Max 700 PR/TTI is equipped with video capture CVBS, CAN interfaces, and has an expanded set of RS-232/422/485 ports, plus digital I/O. The embedded video encoder with JPEG2000 compression/decompression supports three video input channels and video decoders for simultaneous sampling.
The unit's internal super-capacitor based UPS provides 2 minutes of backup power.
MicroMax, as a manufacturer of industrial computers, takes a customized approach to each client. Our engineering group can design M-Max systems to fit customer-specific technical requirements.


Please see photos from the Show. It's an example of mockup made for Embedded World '13 exhibition that shows internal beauty of our M-Maxes.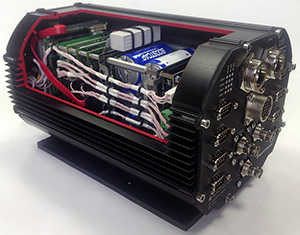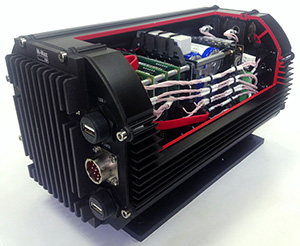 Technical specifications
CPU
Intel Core Duo L2400 (1.66 GHz, 2 MB L2 cache, FSB 667 MHz)
Chipset
Intel 945GME + ICH7M
RAM
2 GB DDR2 SDRAM
Data storage
SSD up to 1 TB (SATA) Hardware RAID 0/1 (option)
Interfaces
2x isolated CAN 24x Digital I/O 8x optoisolated RS-232/422/485 2x Ethernet 10/100 Mbps 3x Video-in PAL/NTSC with JPEG2000 onboard compression 1x VGA output 2x USB 2.0
Power
+9 to +40 V DC AC adapter ~100 to 240 V (optional)
Power Consumption
31 W (Maximum 69 W)
Enclosure
Aluminum enclosure Passive cooling system (no fans)
Mechanical (W x H x L)
294 x 165 x 181 mm
Environmental and physical specifications
Dust/Moisture
IP65
Operating Temperature
-40 to +55 °C
Humidity
Operating: 5 to 95 % at +25 °C, non-condensing
Vibration
Operating acceleration amplitude up to 2g (5-500 Hz)
Shock
Maximum peak shock acceleration up to 6g (3 ms)

Loading data...

Subscribe to our newsletter
You have successfully subscribed
Now you can receive newsletters