Back to news list
Breakthrough Intel® Atom SUMIT-ISM SBC from Diamond Systems Renews Interest in Stackable Architectures
September 22, 2010
Featuring conduction cooling, Diamond's new Aurora SBC stretches program budgets by providing an unmatched feature set. Half the size, weight, power and cost is a compelling migration value proposition. For basic command, control, data collection, portable, vehicle upgrade and communications applications, the days of $1,000+ mid-range rugged SBCs are numbered thanks to Aurora's perfect-fit solution.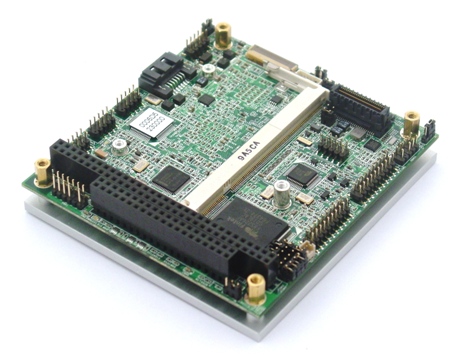 Aurora combines the 1.6GHz Atom Z530 processor with SODIMM RAM up to 2GB, Gigabit Ethernet, USB Flashdisk, Serial ATA (SATA), four RS-232 serial ports (two with RS-422/485 capability), four USB 2.0 ports, PS/2 keyboard and mouse, and both SUMIT-A and PC/104 ISA bus expansion. Aurora saves power by operating off a single low voltage +5V input, yet still allows I/O customization in the form of a plug-in SUMIT module.
Rugged features include -40°C to +71°C operation and an innovative new SO-DIMM solution with optional mounting holes for ruggedness. The on-board SATA connector interfaces to SSDs with short 3" latching cables and no need for an external SATA convertor. Conduction cooling is the ideal solution for sealed metal enclosures in order to prevent thermal runaway and maximize the reliability and longevity of electronics.
Aurora is well suited as a basic x86 controller for a range of applications. SUMIT-A is a space-efficient interface for PCI Express x1, USB, and LPC buses. The combination of SUMIT and PC/104 expansion interfaces is on a growth trajectory to support the largest overall ecosystem of stackable I/O cards, as PCI chips are becoming EOL in favor of PCI Express chips. System OEMs who use PC/104 I/O cards can now continue to use such cards without having to increase their stack height with a bridge card, or completely re-engineer their software and stack for PCI-based I/O cards.