Back to news list
MicroMax Announces Shipment of the Digital Impact and Temperature Recorder, DIGI-SHOCK
May 22, 2014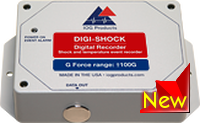 DIGI-SHOCK
is designed to monitor and digitally record impact and temperature of any type of goods in transit, equipment and structure.
A fully reusable device, DIGI-SHOCK, is shipped with easy to use Mission Control software which enables the user to set up a wide range of user defined controlled/recordable values such as G-level for each of 3 axis, temperature parameters as well as time span. A built in LED visually indicates when user-defined parameters have been exceeded during the defined time span of the transportation chain. Encrypted recorded data is available for download and transmission for immediate analysis.
The main parameters:
• Accelerometer: ± 100 G on X, Y, and Z axes, Sampled 100 times per second (50 Hz)
• Battery Life: 30 days minimum (Lithium Ion battery)
• Operating Temperature: -40 ºF to 140 ºF (Battery operating range, Lithium)
• Memory: Flash memory capable of >1 M events
• Physical Specs: 5" x 3.5" x 1.5" plastic case, 8 ounces – with battery installed
• Standard A-B USB cable required for connection to a PC computer
• Serialized identification for security
MicroMax president, Sam Abarbanel, stated "The DIGI-SHOCK along with the entire range of IOG Products offers a complete solution to those requiring transportation monitoring and measurement on all levels."
MicroMax Computer Intelligence was founded in New York, USA, in 1979. It specializes in designing and manufacturing of embedded solutions for harsh environments, systems development and distribution of industrial computing and communication products.
IOG Products is a leading global manufacturer and supplier of transportation monitoring system.