Tri-M Technologies Inc.
Rugged embedded systems hardware including CPU boards, I/O and communication modules, and enclosures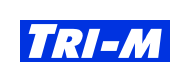 Country: Canada
Tri-M products in MicroMax's catalog
Tri-M Technologies Inc. provides hardware and turnkey solutions for embedded systems, specializing in PC/104 products. The company was founded by Douglas Stead in 1983. Since then we have provided the utmost in customer service and quality products.

We manufacture a wide range of products, and offer extensive design, engineering, and other technical services for standard, semi-custom, and custom requirements.

Loading data...

Subscribe to our newsletter
You have successfully subscribed
Now you can receive newsletters