VarTech Systems
Industrial and marine/military grade LCD flat panel rugged displays, CRT monitors, panel PC, industrial computer systems and workstations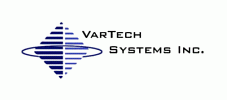 Country: USA
VarTech products in MicroMax's catalog
VarTech Systems is a worldwide leader of industrial and marine/military grade LCD flat panel rugged displays, CRT monitors, panel PC, industrial computer systems and workstations.

Ranked in 1999 by Deloitte & Touche as one of the fastest growing technology companies, VarTech Systems continues to lead on the technological forefront for exceptional quality and very highly engineered products.

In business since 1988, VarTech Systems supports customers from around the globe with ruggedized touch screen technology, systems designed to protect against shock and vibration, and sealed to survive the harshest environments or situations.
VarTech products in MicroMax's catalog