Aries
is a compact, rugged, single board computer that features the Intel E3800 Bay Trail processor to deliver an unmatched combination of performance, price and power consumption. Packed with real-world features, Aries provides a complete solution for most embedded applications in a single board, saving space, time, and money. Aries goes beyond the standard processor and I/O features found on other Bay Trail SBCs to provide rugged performance along with a professional-quality data acquisition circuit supported by industry-leading software. The full rectangular shape provides more coastline for I/O connectors than other boards its size. In this compact form factor, Aries includes a wide range of I/O plus data acquisition functionality, meeting the majority of today's connectivity requirements in a single board.
Choice of CPUs
1.91GHz Intel quad core E3845 CPU
1.46GHz Intel dual core E3826 CPU
The family of Aries SBCs combine excellent CPU performance, a wide range of PC I/O, and integrated high quality data acquisition circuitry into the compact PC/104-Plus form factor at a competitive price.
Available PC I/O includes USB 2.0/3.0, RS-232/422/485, dual Gigabit Ethernet, SATA ports. The data acquisition circuit includes 16 16-bit analog inputs, 4 16-bit analog outputs, 22 digital I/O lines, pulse width modulators, and counter/timers.
Aries supports stackable I/O expansion with PC/104-Plus (ISA + PCI) I/O modules. Aries also provides a dual-use PCIe MiniCard / mSATA socket for additional I/O expansion. I/O modules featuring WiFi, Ethernet, analog I/O, digital I/O, and CAN are available in the PCIe MiniCard form factor, providing compact expandability without increasing the total height of the system.
The Aries SBC was designed with rugged applications in mind. With an operating temperature of −40°C to +85°C, soldered on-board memory, integrated heat spreader for efficient cooling, 50% thicker PCB for increased rigidity and long term reliability, and full suite of latching connectors, Aries is the perfect choice for vehicle and other harsh environment applications.
Software Support
Aries SBCs run Linux, Windows Embedded Standard 7, and Windows Embedded CE. Both Linux and Windows Embedded 7 Software Development Kits are available with bootable images and drivers to get you started on your design project right out of the box.
Data Acquisition
The Aries SBCs include a complete analog and digital data acquisition circuit integrated onto the board. The analog section includes 16 16-bit analog input channels and a 2048-sample FIFO with programmable input ranges and a maximum sampling rate of 250KHz. There are 4 16-bit analog outputs with programmable voltage and current output ranges. 22 programmable digital I/O lines are provided as well as 8 32-bit counter/timers, 4 24-bit pulse width modulators, and a waveform generator.
All data acquisition features are supported by Diamond's free, best-in-class Universal Driver programming software which simplifies application development. Intuitive, easy-to-use graphical control panels make programming all of the data acquisition features fast and simple.
Block Diagram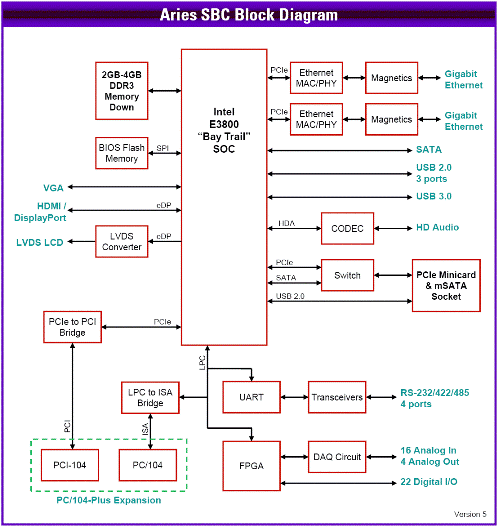 Aries Development Kits
The Aries Development Kits provide all the components you need for fast and efficient embedded development. The kit includes the 1.91GHz Aries SBC with 4GB DRAM and integrated data acquition, cable kit (CK-ARS-01), power adapter cable, a 16GB mSATA flashdisk with Linux pre-loaded, and a software CD with Linux drivers.
A Linux software development kit (SDK-ARS-LNX) is also available. This kit contains a 16GB flashdisk with a bootable Linux image and a CD with a backup copy of the image plus Linux software development tools.
Aries Cable Kit
The Aries cable kit (CK-ARS-01T) includes cables for most of Aries' on-board I/O. Many cables are also available individually.
| | | | |
| --- | --- | --- | --- |
| Number | Qty | Cable | Description |
| 1 | 2 | 6980500 | Dual serial cable |
| 2 | 1 | 6980501 | Digital I/O cable |
| 3 | 1 | 6980503 | Dual USB cable |
| 4 | 1 | 6980504 | Analog I/O cable |
| 5 | 1 | 6980507 | Analog I/O cable |
| 6 | 1 | 6980508 | Audio cable |
| 7 | 1 | 6980511 | Battery cable |
| 8 | 1 | 6980512 | Power cable |
| 9 | 2 | 6980513 | Ethernet cable |
| 10 | 1 | 6980514 | Utility cable |